The İstanbul Kültür University (İKÜ) Faculty of Education organized a seminar on "Overcoming Obstacles with Education."
The Overcoming Obstacles with Education Seminar, organized by the İstanbul Kültür University Faculty of Education on the occasion of the International Week of Persons with Disabilities, took place on Monday, December 4th at the Onder Oztunali Conference Hall. Prof. Dr. Ozge Hacifazloglu, Acting Dean of the İKÜ Faculty of Education, delivered the inauguration speech at the seminar in which the Spinal Cord Paralytics Association of Turkey (TOFD) Press and Protocol Assistant Serkan Uman, Journalist-Author Hakan Soysal, and Physiotherapist Dilek Ece made presentations about difficulties that arise in the lives of persons with disabilities and potential solutions.

Serkan Uman, who was born with cerebral palsy and dystonia due to asphyxiation at birth, is able to use only one finger. Uman quoted passages from his autobiography "Her Seye Ragmen Yasam" ("Life Despite Everything"), which he wrote with his single finger and includes problems that persons with disabilities experience every day, and emphasized that disability is actually a way of thinking and the thoughts of individuals can be changed through education. He also stated the accessibility of social areas can only be increased when the needs of persons with disabilities are considered, and therefore, nothing is capable of handicapping life and freedom.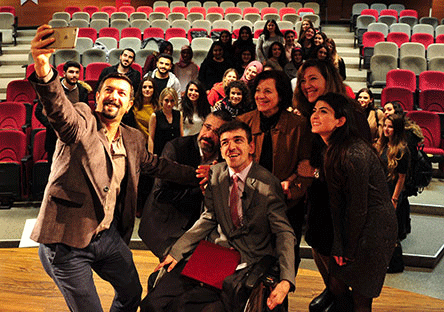 Journalist-Author Hakan Soysal explained the architectural and social problems that persons with disabilities have faced throughout the years by giving examples from Turkey and also the world; he underlined that that urban planning projects from environmental planning to the architectural structure of buildings mostly ignore the requirements of persons with disabilities and many people cannot participate in the social life considering that 9% of the population of Turkey has disabilities. Physiotherapist Dilek Ece also delivered a speech and informed students about daily life routines to avoid obstacles and about physical activities which people without disabilities can take part in together with people with disabilities. 

The seminar, which drew the interest of many participants, was concluded after speakers were presented with memory plates.